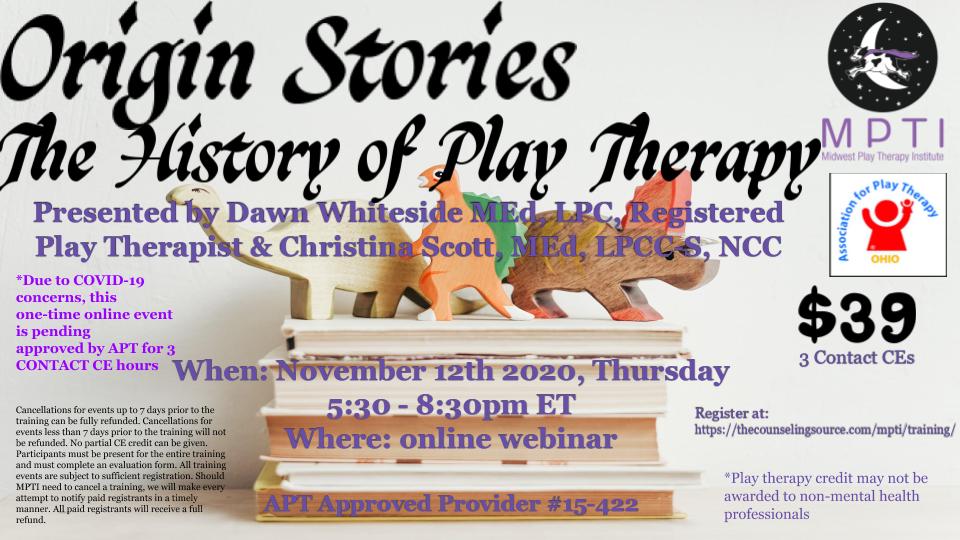 Origin Stories: The History of Play Therapy
Online Webinar
Thursday, November 12, 2020
5:30 PM to 8:30 PM, ET
3 CEU's for $39
Presented by: Dawn Whiteside, MEd, LPC, Registered Play Therapist and Christina Scott, MEd, LPCC-S, NCC
Program Description:
The origins of Play Therapy, as a profession, has its roots alongside the development of psychology. In conjunction with the growth of psychology and mental health counseling, professionals in the field began to identify the differences in a child's inner experience versus that of an adult.  As it evolved, Play Therapy grew to include several major theoretical approaches, which were results of various mental health pioneers as they responded to the cultural and societal needs of the time. Moving from the initial perception that children were possessions, psychologists began to view children with more of a humanitarian perspective, and this evolved into theoretical views, such as the Child-Centered Play Therapy theory that the child is the expert, and we are simply watching the child's growth process. This training will examine the historical roots of the highly-esteemed, evidenced-based profession of Play Therapy, exploring each of the major theoretical frameworks identified, by the Association of Play Therapy (APT), as seminal and historically significant. The formation and application of the Therapeutic Powers of Play, revealed in the early 1990s by APT co-founder Charles Schaefer, will also be examined in such a way as to illustrate that regardless of the theory from which one views the therapeutic process with the child, play is the essential space for which change occurs.
Learning Objectives
Upon completion of this training, participants will be able to:
List at least 8 seminal and historically significant play therapy theories.
Identify at least one mental health professional credited for each of the discussed theories' development.
Describe the history of play therapy.
Define the 4 main Therapeutic Powers of Play.
Course Agenda:
5:30 – 5:45 p.m. Introductions; Review learning objectives.
5:45 – 6:45 p.m. Lecture: Discuss an overview of the history of play therapy.
6:45 – 7:45 p.m. Define the various play therapy theories which have formed and identify basic tenets of each theory.  Include one intervention to demonstrate each of the play therapy theoretical models discussed.
7:45 – 8:15 p.m. Provide a list of the Therapeutic Powers of Play and apply historical context to these principles; discuss the permeability of the Therapeutic Powers of Play across all theoretical models.
8:15 – 8:30 p.m. Engage participants in Question & Answer, final thoughts.
3.0 Hours of continuing education credit will be available to those present for the entire presentation. APT Approved Provider 15-422. Due to COVID-19 health concerns, this one-time online event has been approved by APT for 3 CONTACT CE Hours.