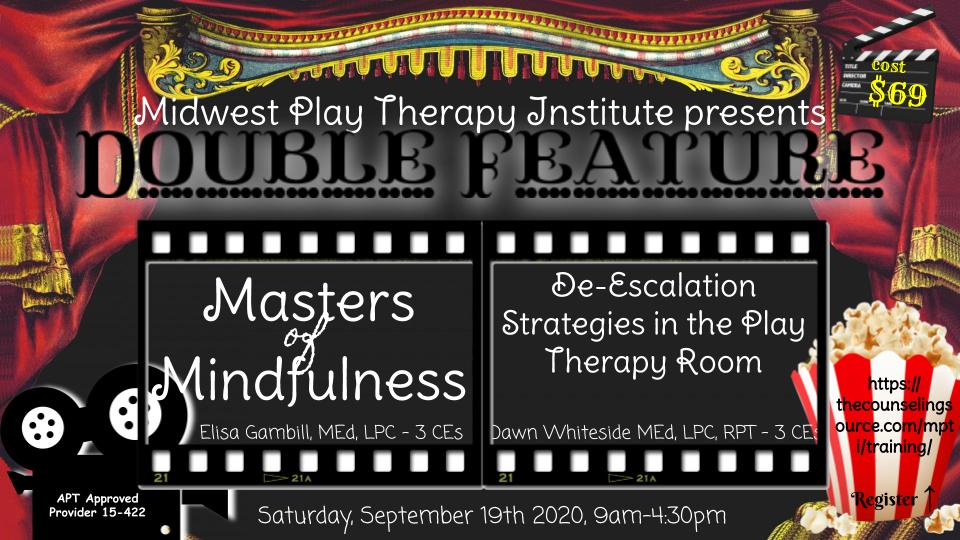 DOUBLE FEATURE
Masters of  Mindfulness & De-Escalation Strategies in the Play Therapy Room
Saturday, September 19, 2020 9:00 am to 12:15 pm & 1:15 PM to 4:30 PM
Online Webinar
6 CEU's for $69
ONE Registration Fee, TWO Webinars
FEATURE ONE
Masters of Mindfulness
Saturday, September 19, 2020, from 9:00 AM to 12:15 PM
3 CEU's
Elisa Gambill, MEd, LPC
During this workshop, participants will:
Gain a deeper understanding of the relevance of mindfulness-based art and play therapy research that supports implementation of these skills into counseling along with different theoretical orientations (mindfulness cognitive behavioral therapy, dialectical behavioral therapy) and how they are incorporated into mindfulness based practice.
Examine the role of engagement in the counseling session and examine the use of pop cultural figures or icons in order to improve participation and interest of the client.
Learn and practice ten different mindfulness-based practices.  Attendees will leave with worksheets, directions, and adaptability options for each intervention.
FEATURE TWO
De-Escalation Strategies in the Play Therapy Room
Saturday, September 19, 2020, from 1:15 PM to 4:30 PM
3 CEU's
Dawn Whiteside, MEd, LPC, RPT
During this workshop, participants will:
Learn ways de-escalation can improve clients' creative problem solving skills, resilience, moral development, self-regulation and self-esteem, as identified in the "Therapeutic Powers of Play" by Dr. Charles Schaefer, APT co-founder.
Participants will be able to identify the "Phases of Acting-Out Behavior" after completion of training.
Improve their ability to identify triggers for clients who have a history of trauma.
Become familiar with play therapy strategies to support and connect with challenging clients.
Examine de-escalation techniques through a Child Centered Play Therapy lens.
For MPTI's Cancellation Policy, Grievance Policy, and Accommodations Procedures, Click Here
APT Approved Provider 15-422