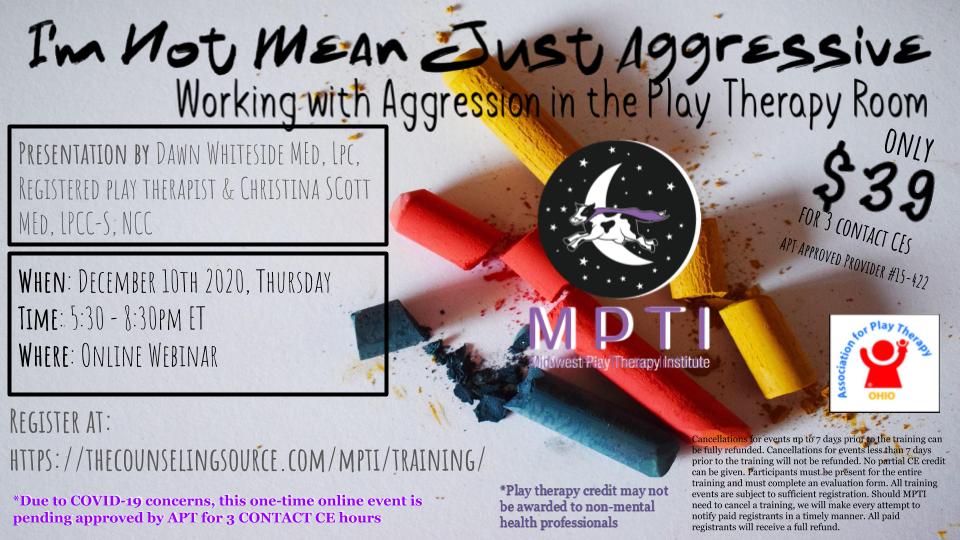 I'm Not Mean, Just Aggressive: Working with Aggression in the Play Therapy Room
Co-sponsored by the Ohio Play Therapy Association
Online Webinar
Thursday, December 10, 2020
5:30 PM to 8:30 PM, ET
3 CEU's for $39
Presented by: Dawn Whiteside, MEd, LPC, Registered Play Therapist and Christina Scott, MEd, LPCC-S, NCC
Program Description:
Viewing play as a child's language, the play therapist can utilize a child-centered play therapy approach in meeting the client where he or she is at. Here, the play therapist can offer an authentic, safe space for the client to experience underlying emotions which may be at the root of any outward and observed aggressive behaviors. As Gary Landreth notes (2012), the play of adjusted children looks different than that of a maladjusted child, and the play therapist has an opportunity to witness the child's inner experience through the child's demonstration of aggressive play in the session. Furthermore, play therapy approaches, such as Release Play Therapy, demonstrate the Therapeutic Powers of Play of using catharsis and abreaction to foster emotional wellness within the play therapy session. In this training, participants will explore a child-centered play therapy approach in working toward understanding a child's aggression and setting therapeutic limits as a response to maintaining a therapeutic space conducive to supporting the client's natural tendency for healing and self-growth.
Learning Objectives
Upon completion of this training, participants will be able to:
Discuss a child's aggressive behaviors or play through the lens of a child-centered play therapy approach.
Describe Release Play Therapy and the 3 forms of activities within this play therapy approach.
Define the concept of limit setting and identify the four steps in implementing therapeutic limits.
List 10 play therapy toys/items to include in the play room for aggression and emotional release.
Course Agenda:
5:30 – 5:45 p.m. Introductions; Review learning objectives.
5:45 – 6:15 p.m. Lecture: Discuss an overview of the child-centered play therapy approach and examine a child's aggression from this theoretical lens.
6:15 – 6:45 p.m. Educate participants on Release Play Therapy as an approach in working with aggressive behaviors/play and provide an opportunity for group discussion.
6:45 – 7:15 p.m. Engage participants in discussion regarding therapeutic limit setting, as presented from the perspective of Gary Landreth. Provide case examples of when to use this intervention and how to implement limits.
7:15 – 7:45 p.m. Present information regarding additional strategies for the play therapist to use, as well as toys and play therapy supplies recommended, in facilitating therapy with a client displaying aggressive behaviors and play.
7:45 – 8:15 p.m. Examine current research and case studies offering support of a child-centered play therapy approach in working with aggression in children.
8:15 – 8:30 p.m. Question & Answer, final thoughts.
For MPTI's Cancellation Policy, Grievance Policy, and Accommodations Procedures, Click Here
3.0 Hours of continuing education credit will be available to those present for the entire presentation. APT Approved Provider 15-422. Due to COVID-19 health concerns, this one-time online event has been approved by APT for 3 CONTACT CE Hours.