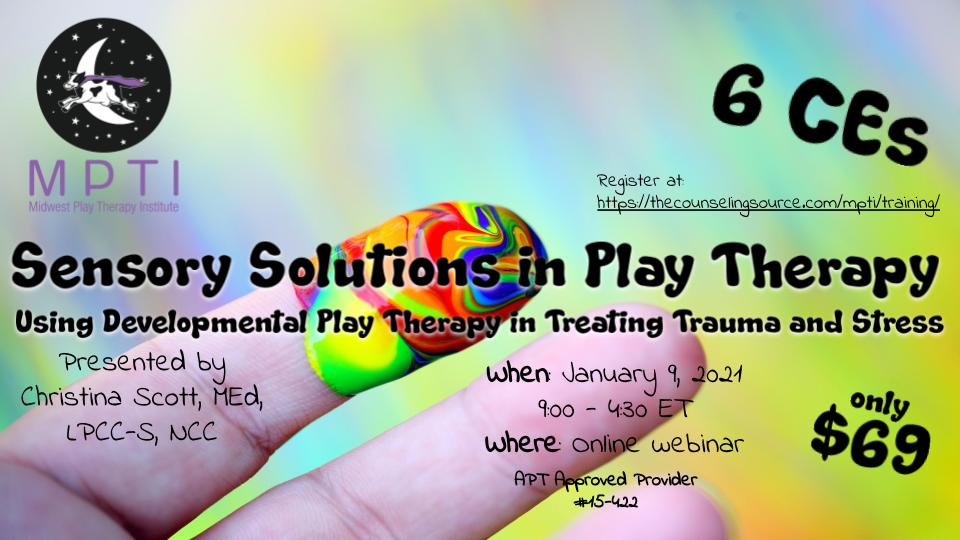 Sensory Solutions in Play Therapy
Using Developmental Play Therapy in Treating Trauma and Stress
Online Webinar
Saturday, January 9, 2021
9:00 AM to 4:30 PM, ET
6 CEU's for $69
Presented by: Christina Scott, MEd, LPCC-S, NCC
Program Description:
As research shows, the impact of trauma and environmental stressors on a child's brain reveals itself through the disruptions in a child's sensory and cognitive processing as well as in the child's observed difficulties in emotional/behavioral self-regulation abilities (Carey, 2006). Additional research (Stewart, Field, & Echterling, 2016) shows us that play therapy has the potential to help the child in creating new neural pathways and repairing the impact of trauma on the brain. Delving into the neuroscience within play, play therapy researchers have examined the role of play within the context of treating the child using a polyvagal theoretical approach. Inherent within this approach is the issue of physical touch. Viola Brody (2006) described a therapeutic rationale for the ethical use of touch within the realm of play therapy practice, discussing that touch serves a role, within Developmental Play Therapy, in helping the child client move toward wellness and improved functioning. In this workshop, play therapy professionals will examine the existing research incorporating concepts from neuroscience, the polyvagal theory of trauma as well as sensory strategies involving physical touch to develop a greater understanding, and enhanced sense of professional confidence, in working with child/adolescent clients in a sensory-based play therapy setting.
Learning Objectives
Upon completion of this training, participants will be able to:
Identify the potential influence of trauma and external stressors on a child's sensory experience.
Examine common sensory challenges, associated with trauma/stress, in child and adolescent clients who might present to the play therapist's office.
Discuss the ethical considerations, as well as potential benefits, in incorporating touch into the play therapy session.
Demonstrate 3 play therapy strategies incorporating touch within the play therapy session, examining the rationale for such strategies.
Recite research on the role neuroscience plays in sensory functioning and trauma response as it pertains to treating children within the play therapy realm.
Apply 6 play therapy interventions utilizing a client's five senses and describe the purpose, rationale, and steps of these interventions.
Course Agenda:
9:00 – 9:30 a.m. Introduction Activity; review learning objectives.
9:30 – 10:30 a.m. Discussion of trauma, external stressors and environmental instability on a child's functioning. Identify the influence of trauma on client's sensory experiences and explore potential presenting problems within the play therapy context associated with these sensory issues. (Objective #1 and #2)
10:30 – 10:45 a.m. Break.
10:45 – 11:30 a.m. Lecture: Touch in the Play Therapy Room. Review literature on the use of touch using play therapy principles; discuss ethical considerations as well as potential benefits and pitfalls of incorporating touch in therapy with child/adolescent clients. (Objective #3)
11:30 – 12:00 p.m. Engage participants in examining play therapy strategies involving touch and discuss the purpose, rationale and steps within each strategy. (Objective #4)
12:00 – 1:00 p.m. Lunch.
1:00 – 2:00 p.m. Explore current research on the role neuroscience has within the play therapy context, examining concepts such as the polyvagal theory, mirror neurons, synergetic play therapy, and trauma's impact on the brain. (Objective #5)
2:00 – 2:30 p.m. Demonstrate play therapy interventions, to be used with clients and caregivers, for the purpose of providing psychoeducation on the role of neuroscience in the child's affective, behavioral and sensory functioning. (Objective #5)
2:30 – 2:45 p.m. Break.
2:45 – 4:00 p.m. Describe and examine play therapy interventions which incorporate the five senses; analyze the purpose of each exercise, offer a sound rationale for the intervention, and discuss the steps and materials involved. Provide participants with case studies in which these techniques have been used in play therapy practice. (Objective #6)
4:00 – 4:30 p.m. Closure, Questions, and Evaluations.
For MPTI's Cancellation Policy, Grievance Policy, and Accommodations Procedures, Click Here
6.0 Hours of continuing education credit will be available to those present for the entire presentation. APT Approved Provider 15-422. Due to COVID-19 health concerns, this one-time online event has been approved by APT for 6 CONTACT CE Hours.