DOUBLE HEADER
October 10 @ 10:00 am

-

4:15 pm

$69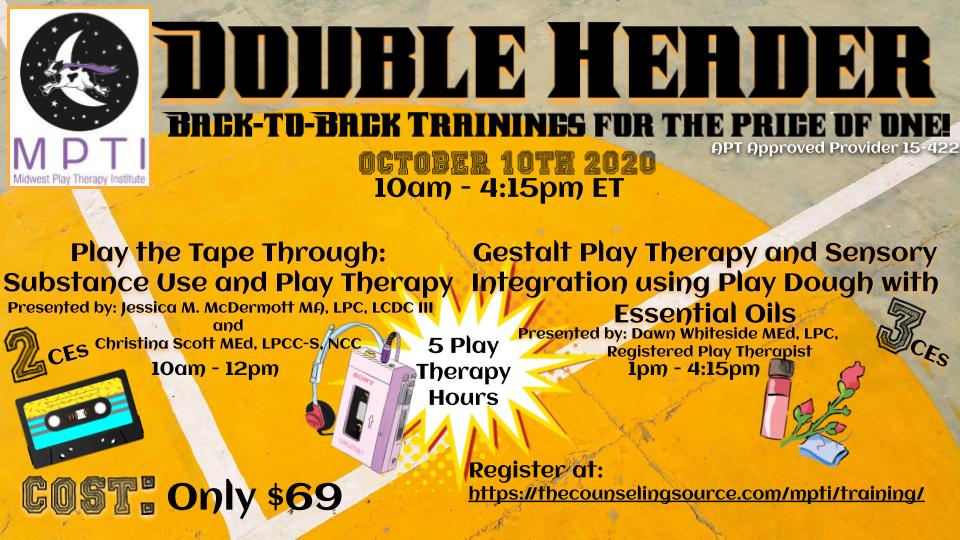 DOUBLE HEADER
Play the Tape Through: Substance Use and Play Therapy
AND
Gestalt Play Therapy and Sensory Integration using Play Dough with Essential Oils
Saturday, October 10, 2020
10:00 AM to 12:00 PM & 1:00 PM to 4:15 PM
Online Webinar
5 CEU's for $69
ONE Registration Fee, TWO Webinars
FIRST EVENT
Play the Tape Through: Substance Use and Play Therapy
Saturday, October 10, 2020, from 10:00 AM to 12:00 PM
2 CEU's
Presented by: Jessica M. McDermott, MA, LPC, LCDCIII and Christina Scott, MEd, LPCC-S, NCC
Program Description:
Research has shown that substance use in the family affects everyone. With studies proving that the family is the initial, and primary, source of attachment, socialization and nurturing for a child, it is clear that substance use within the home may have a detrimental impact on a child's development and well-being. Play therapists will inevitably encounter clients who are impacted by their own substance use or that of a close family member. In this training, play therapists will explore the potential negative effects of familial substance use as well as identify strategies they can implement within the play therapy room to effectively explore and address the subsequent challenges and difficulties the child must navigate.
Learning Objectives:
Describe the potential impact of personal substance use and familial substance use on children and adolescents.
Demonstrate a basic knowledge of other areas of functioning, in children and adolescents influenced by substance use.
Gain insight into at least 6 specific play therapy principles which can be used in working with child/adolescent clients affected by substance use.
Course Agenda:
10:00 – 10:20 a.m. Introduction, review learning objectives, invite participants to prepare questions for material they would like to cover.
10:20 -10:40 a.m. Discuss the science of substances and substance use; describe current evidence-based treatments and use of play therapy principles in treatment.
10:40 -11:10 a.m. Examine potential impact of substance use in a child's family/home environment; explore areas of functioning impacted by substance use and engage in play therapy interventions focused on addressing these treatment areas.
11:10 -11:40 a.m. Discuss the implications of personal substance use within children and adolescent clients, examining assessment tools as well as investigating statistics. Demonstrate play therapy and expressive arts interventions aimed at treating these clients for substance use issues.
11:40 -12:00 p.m. Review several case studies utilizing play therapy interventions discussed; invite participants to share questions and feedback.
SECOND EVENT
Gestalt Play Therapy and Sensory Integration Using Play Dough and Essential Oils
Saturday, October 10, 2020, from 1:00 PM to 4:15 PM
3 CEU's
Presented by: Dawn Whiteside, MEd, LPC, Registered Play Therapist
Program Description:
This workshop will support play therapists and mental health clinicians in learning techniques that will help clients relax and unwind while enhancing their awareness and sharpening their sensory capabilities. Play therapists will utilize a Gestalt Play Therapy lens to delve into understanding the Therapeutic Powers of Play.
Through this lens, clinicians can learn to foster emotional wellness, increase personal strengths, and deepen social relationships to enhance play therapy sessions. Based on Gestalt Play Therapy, in the book "Windows to Our Children" by Violet Oaklander, she describes this very experience with an orange; we will be using play dough and essential oils. Counseling sessions can be stressful for many children and adults when they are processing areas of their lives in which they have had trauma or for clients with ADHD/ODD who may be in distress.  By linking Gestalt Play Therapy and Sensory Integration, adding essential oils to play dough, sensory bins, or diffusing in your office can provide an added benefit in treatment.  During our time together, we will use the play dough to experience the benefits through a multisensory aspect.  The essential oils may decrease stress and the colors may assist in emotional regulation.
As a result of this presentation, participants will be able to:
Describe Gestalt Play Therapy and Sensory Integration.
Articulate the benefits of Sensory Integration in play therapy.
Demonstrate 4 Gestalt Play Therapy/Sensory Integrated interventions to use in their clinical practice.
Identify 3 essential oils and how essential oils can be beneficial in your practice.
Course Agenda:
1:00 – 1:15 p.m. Introduction, Review learning objectives.
1:15-1:50 p.m. Lecture: Discuss overview of Gestalt Play Therapy and Sensory Integration (Objective #1 and #2)
1:50 – 2:20 p.m.  Play Therapy Technique – 1 and 2 (Objective #3)
2:20 – 2:35 p.m. Break
2:35– 2:50 p.m. Case Study: Maddie
2:50 – 3:15 p.m.  Essential Oils (Objective #4)
3:15– 3:40 p.m.  Lecture: "Windows to Our Children" by Violet Oaklander, Play Therapy Technique – 3       (Objective #3)
3:40– 4:00 p.m. Curative Powers of Play for children/adults using Gestalt, Play Therapy Technique – 4 (Objective #3)
4:00 – 4:15 p.m. Closure, Questions, and Evaluations
For MPTI's Cancellation Policy, Grievance Policy, and Accommodations Procedures, Click Here
APT Approved Provider 15-422