Documentation in Play Therapy
February 20, 2021 @ 9:00 am

-

4:30 pm

$69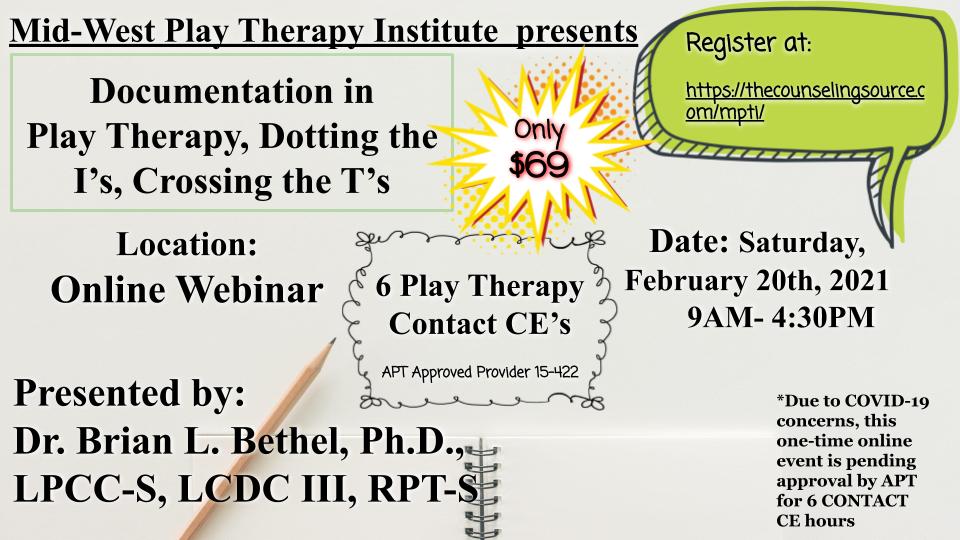 Documentation in Play Therapy
Dotting the I's, Crossing the T's

Online Webinar
Saturday, February 20, 2020
9:00 AM to 4:30 PM, ET
6 CEU's for $69
Presented by: Dr. Brian L. Bethel, Ph.D., LPCC-S, LCDC III, RPT-S
Training Description:
In the current era of mental health practice, clinicians must be accountable to the consumers they serve, third party payer sources, professional colleagues, and the profession as a whole.  Without question, documentation of clinical services, theoretical models, and interventions are core to our professional accountability.  However, such documentation practices are more complex when delivering advanced and specialized therapeutic services like play therapy.  This training will highlight the specific challenges related to play therapy documentation. Participants will be offered strategies to enhance their skills of documentation and acquire additional knowledge to ensure the quality of their written clinical records.
Training Objectives
At completion of this training participants will:
Have acquired specific recommendations for documenting the medical need for treatment in play therapy practice.
Be able to articulate specific documentation requirements of play therapy interventions to increase quality assurance measures.
Have the ability to accurately reflect play themes in their documentation of play therapy settings.
Possess increased competencies of incorporating play therapy interventions into the documentation of traditional counseling models.
Have an increased understanding of the ethical guidelines specific to the documentation of play therapy practices.
Have specific guidance for adherence to professional standards of documentation related to play therapy.
Training Agenda:
9:00 a.m. – 9:30 a.m.
Introduction of training topic. Introduction of self. Review of competencies and goals.
Who's in the room?
Activity #1: Dotting the I's and Crossing the T's
9:30 a.m. – 10:00 a.m.
The purpose of documentation. (Medical Necessity, Assessment, Treatment Planning, Service Activity, Progress Notes, Compliance with Payor Source, and Ethics) The Golden Thread of Documentation. Models of Documentation-Specific Guidance for clinical documentation
10:00 a.m. – 10:30 a.m.
Activity #2: "Putting Your Mouth, Where the Money Is"
What Insurance Companies, Medicaid, Medicare, etc. need in documentation.
10:30 a.m. – 10:45 a.m.
Break
10:45 a.m. – 11:30 a.m.
The challenges of play therapy and documentation. Ensuring that our services are reimbursable.
Common Pitfalls with Play Therapy Documentation.
Reflections from the Playroom-Experiential Examples
11:30 a.m. – 12:00 p.m.
Activity #3: "Our Play on Words"
Tricks, Tips, and Snips of Play Therapy Documentation
Recommendations and Suggestions
12:00 p.m. – 1:00 p.m.
Lunch
1:00 p.m. – 1:30 p.m.
Activity #4: Documentation Practice
The Treatment Plan-The Starting Point (Medical Necessity, Assessment, and Treatment Planning)
1:30 p.m.– 2:00 p.m.
Documenting Play Themes in Play Therapy Practice
Respecting the Process (Service Activity)
2:00 p.m. – 2:30 p.m.
The therapeutic power of play-Documenting the therapeutic outcomes of play therapy (Service Activity)
2:30 p.m. – 2:45 p.m.
Break
2:45 p.m. – 3:30 p.m.
Documentation of Play Therapy Interventions-Compliance with Funding Sources
Recommendations, Strategies and Suggestions.
3:30 p.m. – 4:30 p.m.
The Ethics of Documentation
A review of ethical guidelines (ACA; OCSWMFT Board, Association for Play Therapy) for documentation.
Questions-Closure
For MPTI's Cancellation Policy, Grievance Policy, and Accommodations Procedures, Click Here
6.0 Hours of continuing education credit will be available to those present for the entire presentation. APT Approved Provider 15-422. Due to COVID-19 health concerns, this one-time online event is pending approval by APT for 6 CONTACT CE Hours.